About MyOffice'Al
MyOffice'Al is a coworking space in Tirana
It offers open workplaces with modern infrastructure and amenities.
Located in the center of Tirana, next to the central train station and only footsteps away from the main square, MyOffice'Al is an energetic, yet calm environment for freelancers, entrepreneurs and startup teams.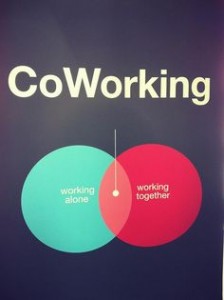 Reasons to join MyOffice'Al:
Modern workplaces
Great location in the center of Tirana
No contract obligation
Fully-furnished workplace
 Office for single person or team
Meeting/teleconference room use for free
Bar and Entertainment room
Network with other freelancers for cooperation and friendship
Convenient and flexible prices; various membership plans
What is coworking?
Coworking is redefining the way we work.
The idea is simple: independent professionals and those with workplace flexibility work better together than they do alone. (Coworking answers the question that so many face when working from home: "Why isn't this as fun as I thought it would be?" ) Beyond just creating better places to work, coworking spaces are built around the idea of community-building and sustainability. Coworking spaces agree to uphold the values set forth by those who developed the concept in the first place: collaboration, community, sustainability, openness, and accessibility. (borrowed from www.coworking.com)
A comprehensive definition:
Coworking is an emerging trend for a new pattern for working. Typically work-at-home professionals or independent contractors or people who travel frequently end up working in relative isolation. Coworking is the social gathering of a group of people, who are still working independently, but who share values and who are interested in the synergy that can happen from working with talented people in the same space.
Some coworking spaces were developed by nomadic internet entrepreneurs seeking an alternative to working in coffee shops and cafes, or to isolation in independent or home offices.
Business accelerators, business incubators and executive suites do not seem to fit into the coworking model, because they often miss the social, collaborative, and informal aspects of the process, with management practices closer to that of a Cooperative, including a focus on community rather than profit. (borrowed from Wikipedia)
Learn about the emerging movement of coworking in 2.21 minutes
Turnstone video with support from Emergent Research, Link Cowering, CoCo, and Mojo solo.
Coworking in Tirana
Coworking in Tirana
Coworking is a trend that is booming in every corner of the world in these last years. From San Francisco to New York, Barcelona, Amsterdam, Berlin and Tokyo, the young generation is becoming part of an agile working experience. Coworking is a style of work that involves a shared working environment, often a cool office, and independent activity. The practice is well known among lean startups and freelancers who choose the commodity of an office, but still prefer a loose style of work and lots of networking.
It is impossible to find a metropol without at least a few coworking places, and as one might expect Tirana is no different. Just a few days back, MyOffice.al was launched as the first coworking space in Tirana. The targeted audience is oriented toward freelancers, business visitors, and IT startup geeks, while other professionists are also invited. The difference from other formats of offices for rent is not only the price, but also the comfort, the focus on a high speed IT infrastructure, the social interactions and still have the availability of quiet meeting rooms, relaxing lounges or entertainment corners.
So, after a visit to MyOffice.al, here is a list of benefits in working at a coworking space:
Modern Workplaces
When you are passionate about something, you do not really worry about the place you work, but those little successes of us are also defined by the place we spent our time. While you might rent an apartment for your quite coding corner, working in a modern workplace gives a great sense of satisfaction and contempt.
Great location in the center of the City
Traffic is a problem!? Transportation? All these worries go away if the location is situated somewhere easily accessible. MyOffice'Al is located in a very strategic location, just a few meters from the Central Train Station, near to the Zogu I Bulevard and with access to the small city ring. It is close to the centre of the city, but also easily accessible being not far from the national highways which connect Tirana to the northern and south-western cities.
No Contract Obligation
Tied up by a contract you don't need, or paying months in advance in your rental office!? Not a concern anymore at a coworking space. At MyOffice'Al there are no contracts restricting you, you can use the spaces on daily, weekly or monthly bases. Basically, you pay for what you use, and when you use it.
Cheap Office Rent for your Team
I remembered when I started my first business venture. I was one, and soon we grew into a team of three, but still it was too soon for us to afford 100m² offices in Tirana. With a coworking space, you can start small and grow gradually. In case of MyOffice'Al, you can have an office for rent for your team, or even share the coworking space and make use of the meeting rooms for sprints and other team collaboration activities. The Meeting room is for free and it is great considering it is equipped with teleconferencing devices.
Lounge and Bar
And it is not all about endless hours of working! We need to enjoy some relaxed moments in between, coffee breaks, or casual meetings. For this reason there is a Bar and an Entertainment lounge for any member of MyOffice'Al. This is a great chance to engage in conversations with other freelancers and do some networking. The social aspects and the diversity of the people in our life is something we should value the most. It is them who allow us to improve our understandings and experience of a colourful world.
Convenient and flexible prices; various Membership Plans
And the last, but not least, is the flexibility of the prices! The prices have been designed to be convenient for anyone, from freelancers looking for a temporary office, to the lawyers who need a quiet office where they bring their work. One can chose from a daily ticket, and extend it to a weekly, monthly or even yearly to exploit the best prices in the city for a fully-furnished, contemporary workplace.
Whatever the need, there will be a negotiation to help anyone jump on board.
FAQ
Frequently Asked Questions
Q: Are the acoustics good?
A: MyOffice'Al operates similar to a library: everyone knows to keep the noise down in the working area. For chats and conversations, people go to the café. Apart from that, there is 1 meeting room available for extended discussions and meetings. Partitions, shelves and plants facilitate soft acoustics.
Q: Is a meeting room available?
A: Yes, there is one meeting room  available, which can hold 4 people. The room is already equipped with a whiteboard, big screen, and flip chart. For larger groups (up to 30 people), and for events like lectures, talks or presentations, you can rent the event space or the lounge.
Q: Is there a kitchen?
A: There is a small kitchenette  with fridge, small coffee machine and water kettle.
Q: Are printers, scanners, etc. available?
A: We have a printer, scanner and copier, which all members are allowed to use.
Q: Can I safely store my valuables at MyOffice'Al?
A: Yes, lockers are available.
Q: Is there a parking lot?
A: No, unfortunately not. However, parking on the street in Lozenets district is for free.
Q:Is there a place where I can leave my bike?
A: Yes, we have a bike  rack.
Q: Is smoking allowed at MyOffice'Al?
A: MyOffice'Al is a non-smoking environment. You can smoke outside of the building.
Q: Can I just give it a try?
A: Come over and try a one day as test. This test day is provided for those who are still uncertain of becoming members.
Q: Can I bring clients with me to MyOffice'Al?
A: Certainly. We have a meeting room and a lounge where you could meet.
Q: Can I also work at night or during the weekend?
A: If you sign up for the additional package you can work at night.
Q: Can I make phone calls in peace and quiet?
A: There are various possibilities for making phone calls without being interrupted. For long phone call or teleconference, we provide the meeting room.
Q: How much is a desk at MyOffice'Al?
A: See Pricing page.
Q: What are the contract terms (incl. ceasing contract)?
A: The contracts are termless except the long term ones, as well as the TEAM ROOM ones which require a two month notice of leave.